Five nations have teamed up to inspire rural communities to take to the countryside to help improve their mental health.
Launching today (12 October) to coincide with #AgMentalHealthWeek, the challenge, #Run1000, is calling on people to sign up to be part of one of five teams – England, Ireland, Scotland, Wales and the rest of the world.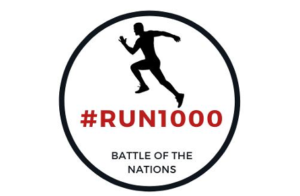 The competition, which will take place from 1 to 31 January 2021, will see each team run 1000 miles with the nation that reaches the milestone first, announced the winner. A team captain will lead each nation, and a private Strava group will record the collective running distance.
Sheena Horner from Scotland founded the idea,
"I got back into running at the beginning of 2020 by participating in my local ParkRun. When lockdown prevent the local community from meeting weekly, I started running on my own but I quickly realised, that, for me, ParkRun was not just about my fitness, but also the social interaction with others.
"It doesn't matter where you are in the world, we have all faced challenges with the pandemic and for many this has had a significant impact on our mental health. We wanted to demonstrate through #Run1000 that we are all facing this together and that you may not be able to physically meet, but you can be part of an online community."
As well as helping personal mental health, the initiative will raise awareness and funds for charities that have been impacted by the lack of fundraising events this year.  The £20 joining fee will be divided equally between five charities, selected by the team captains – The Farming Community, Embrace Farm, The Do More Agriculture Foundation, RSABI and DPJ Foundation.
Charles Anyan, England team captain believes now is an important time to support these charities,
"Mental health is a big problem in agriculture and these charities unite all our #Run1000 nations as they are at the forefront of the battle. They work tirelessly to pick us up when we fall. They do a remarkable job."
To take part, visit http://www.agri5nations.com/, click on your team and make your £20 contribution. The team captain will be in touch with joining details.
"The challenge is open to anyone that would like to get involved, whether you run 2 miles or 20m every contribution is invaluable to helping support our chosen charities. Our captains are all quite competitive, so I am looking forward to some fun rivalry during throughout the month." Sheena concluded.
Team captains:
England- Charles Anyan: farmer who founded the Strava club, Running Farmers
Ireland – Peter Hynes: farmer and founder of Ag Mental Health Week. #TackleYourFeeling ambassador
Scotland – Sheena Horner: chilli farmer and freelance consultant who founded #Run1000
Wales – Emma Picton-Jones: teacher and part-time farmer. Founder of the DPJ Foundation Mental Health in Ag charity.
Rest of the world – Jason Medows: rancher in Missouri, America and founder of Ag State of Mind, a blog and podcast focussing on mental health and the agriculture community.
-Ends-
Photographs
Available on request
Media Enquiries
For more information or to arrange an interview, please contact:
Sheena Horner
Telephone No: 07872 066583
Email address: run1000@agri5nations.com
Facebook: https://www.facebook.com/Run1000inJanuary2021
Twitter: https://www.twitter.com/_Run1000

Our team at Jane Craigie Marketing are pleased to be sponsoring #Run1000 through in-kind media support.