By Jane Craigie
The food and farming sector faces a nail-biting Christmas as the countdown to Brexit painfully drags on.
Our exit from the world's largest trading block has come at a complex time, the world's economy has been jarred by COVID-19. Shoppers' habits have altered dramatically during lockdown, and illness coupled with operational restrictions have stalled the flow of food picking, manufacturing, and delivery.
Despite being a stalwart European, I must accept our fate and make the best of whatever is agreed between the UK and the EU.
Westminster published its Brexit worst-case scenario document this autumn, it predicted that 40% of our food trade with Europe will cease with a no deal and suggested that up to 70% of our logistics fleets may not be ready for the EU border controls.
The EU supplies 26% of the UK's food, and, come January with no-deal, we could see a 10% shortage in all foods on supermarket shelves [according to The Grocer], with disproportionate shortages of chicken, fresh fruit and vegetables.
For our exports, who knows? It may take some time for us to see the full picture, especially with red meat, because cold stores will have capacity to hold on to unsold meat for a while, post-Christmas.
But I always have hope, fuelled by my optimism and belief that human ingenuity will prevail, and that consumers will adapt, as they have during the pandemic.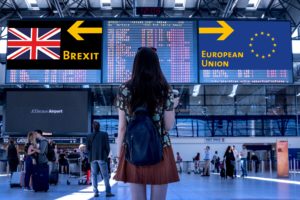 COVID-19 gave us an insight to what a locally dominant, nationally strong, food supply system might look like, as well as into changes in shoppers' and retailers' behaviours.
How society buys has changed in response to shortages and lockdown restrictions; now 17.2 million consumers purchase online. Amazon has been a huge beneficiary of this trend, with the company forecasting a 28-38% year-on-year uplift in revenue. This is doubly relevant because Amazon Fresh has now teamed up with some of our dominant food retailers to sell and deliver food.
Food delivery has become crucial during the pandemic. The winners have been recipe ingredients' companies like Hello Fresh and Mindful Chef. We've seen companies like Deliveroo and Uber partner retailers including Sainsbury's to bolster home shopping, and local, small-scale food producers, farm shops and butchers gain by filling the gaps created by the stalled global food system.
We don't know if society's behavioural changes will remain, but the pandemic and any Brexit-triggered food shortages do give a window of opportunity for agriculture and for direct-selling producers.
If we're smart, we can switch chicken-buying consumers to beef, pork or lamb, and if spinach is off the menu, we can shift shoppers to UK kale or cabbage. If we're doubly smart we can push seasonal foods like the neep, the tattie and the carrot, versatile foods that bring comfort when cooked with Scotch Beef for stew, or barley for a broth.
And for local food suppliers COVID-19 has shown society the precious value in being able to buy a block of cheese, a joint of meat or a pint of milk from someone near home, someone who will also care about who you are and how you are feeling.
Over Christmas, Scottish producers have a perfect time to campaign on social about what foods Scotland grows and makes, and to gear up with other suppliers to find a way to deliver locally.
I do believe that, with the right mindset and approach, our sector really could come out of the pandemic stronger – and cope better with the impact of a no-deal Brexit. But I pray that we make a lasting win:win deal with Brussels.