An initiative designed to research and better understand rural young people, aged 18-28, is being launched today. The Rural Youth Project coincides with the 2018 Year of Young People and will combine an online survey, year-long in-depth video logs (vlogs) of 15-20 rural young people and a Rural Youth Ideas Festival.
The target countries for the research are: England, Scotland, Wales and, internationally, Austria, Australia, Canada and the USA.
The initiative is a social enterprise venture and is the brainchild of Jane Craigie and Rebecca Dawes. The Rural Youth Project has the support of partners interested and engaged in the rural youth 'space', they are LANTRA Scotland, the Scottish Association of Young Farmers (SAYFC), Scottish Enterprise, Scottish Rural Action, Scottish Rural Network and YouthLink Scotland, and will be managed by Jane Craigie Marketing.
Inspired by their participation in leadership initiatives, including the Scottish Enterprise Rural Leadership Programme and the Windsor Leadership Programme, Jane and Rebecca aim to identify and engage young rural leaders to help them drive positive change within their local rural communities.
"Rural young people are fundamental to the vibrancy, energy and economic outlook of rural places," explains Jane Craigie. "We wanted to better understand what young people perceive their challenges and opportunities to be, as well as gaining a better understanding of their degree of optimism for the future."
Rebecca Dawes, with her background in the SAYFC, added that there is a real lack of insight into this important group within our rural communities, hence the decision to run this project.
She said: "the research to date amongst rural young people, both nationally and internationally, has been fragmented, but what we do know is that rural areas have a lower percentage of 16-34 year-olds and evidence suggests that migration of young people away from rural areas hinges on education, employment opportunities, housing and public transport availability – some of the many research areas that we are surveying.
"With so much emphasis on youth this year, we want to make sure that rural young people have a voice that will be heard, what better way is there to share their outlook?"
The project, which will be repeated annually, aims to research a wide range of rural young people including those working in education, farming, retail and hospitality, as well as those who are in full time education, or unemployed.
"The project, which will be repeated in 2019-22, has the bold ambition to better inform society and policy-makers about the vibrant talent that is held amongst our rural youth, and to compare our findings with those from other countries around the world.
James Rose explained why the Scottish Rural Network are supporting the project "The future of rural Scotland is in the hands of its young people. In 2018, the Year of Young People, The Scottish Rural Network (SRN) is supporting the Rural Youth Project to gain a vital insight into what matters to young people in rural areas and bring together the people who will define our rural communities in the years to come."
Penny Montgomerie from SAYFC added "Young people need to have the confidence to drive policy and influence decision makers on matters that impact them rather than relying on older generations to make presumptions on their needs."
Jane Craigie Marketing will use their wide-reaching networks within the international agricultural and rural leadership community and the International Federation of Agricultural Journalists to publicise the project and its outcomes.
The survey will open on 26 January and close on 30 April 2018. The incentive for completing the survey is a pair of tickets to the TRANSMT Festival in Glasgow on 8 July or a pair of tickets for ButeFest 2018.
The 2018 Project will culminate in a three-day Rural Youth Ideas Festival, run by Jane Craigie Marketing on 20-22 July in rural Scotland and an action plan developed by the Project partners.
The survey can be reached via the Project website www.ruralyouthproject.com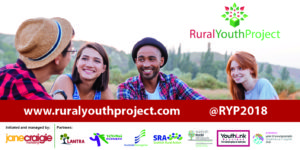 Contacts: Jane Craigie on 07795 278767 or Rebecca Dawes on 07792 467730.   Email hello@ruralyouthproject.com
About the Rural Youth Project
The Rural Youth Project will be managed by Jane Craigie Marketing – a marketing and communications team with skills in PR, digital, event curation and strategy.
The partners are: LANTRA Scotland, the Scottish Association of Young Farmers (SAYFC), Scottish Enterprise, Scottish Rural Action, Scottish Rural Network and YouthLink Scotland.
This research-based project aims to develop feasible strategies to facilitate the involvement of young people in agricultural and rural activity by better understanding their current situation, aspirations, opportunities and challenges. It will engage with 18 to 28-year olds living in, or brought up in rural places throughout Scotland. It will also invite English and Welsh young people to participate to provide further data to compare and contrast the results in Scotland. Furthermore, it will draw comparisons with three international countries – Austria, Australia, Canada and USA by inviting native rural youth to take part in the project.
The outcomes will be shared with the research partners, and wider industry to help ensure that, collectively, we are informed and equipped to better support and inspire the future generations of Scotland.
The research will look to gather information on topics including: employment, education, skills and training, wellbeing, social interaction, connectivity, rural living, infrastructure, transport and travel, rural facilities, housing, opinions and aspirations.
It will also aim to establish if rural youth feel they have a voice within their local community, what further support they require and how best the industry could be engaging with them.
The Partners
Lantra Scotland
Lantra represents the skills interests of land-based, aquaculture and environmental conservation businesses and organisations across Scotland and the UK.  We promote the economic and environmental benefits of investing in skills, help to inform policies, provision and funding, and promote the diverse and rewarding careers available in the sector.  Lantra also operates a commercial awarding organisation and supports a network of training providers and instructors. www.lantra.co.uk/scotland
Scottish Association of Young Farmers' Clubs (SAYFC)
The Scottish Association of Young Farmers (SAYFC) is a social network for those 14 to 30 years old in rural communities throughout Scotland providing them with lifestyle skills in agriculture and business as well as person development and networking opportunities. www.sayfc.org
 Scottish Rural Action (SRA)
Scottish Rural Action seeks to be a powerful voice for the people of rural Scotland. We focus on the key issues identified by rural communities at the Scottish Rural Parliament, currently broadband, land, transport, democracy and business. www.sra.scot
Scottish Enterprise
Scottish Enterprise is Scotland's main economic development agency and a non-departmental public body of the Scottish Government. We work with partners in the public and private sectors to identify and exploit the best opportunities to deliver a significant, lasting effect on the Scottish economy www.scottish-enterprise.com
 Scottish Rural Network (SRN)
The Scottish Rural Network (SRN) encourages rural development by sharing information, ideas and good practice. We work with, and for, anyone who lives, works or has an interest in rural Scotland. Visit our website to join the network and add content, view our films and publications, sign up to our weekly newsletter and follow on social media www.ruralnetwork.scot"
YouthLink Scotland
YouthLink Scotland is the national agency for youth work.  We are a membership organisation, representing regional and national youth organisations from both the voluntary and statutory sectors.  We champion the role and value of youth work and represent the interests and aspirations of our sector.   Youth work has three essential and definitive features: Young people choose to participate; Youth work must build from where young people are; Youth work recognises the young person and the youth worker as partners in a learning process.  YouthLink Scotland champions the role and value of youth work, challenging government at national and local levels to invest in the development of the sector for the benefit of our young people. www.youthlinkscotland.org