The Oxford Farming Conference (OFC) has announced the 17 recipients who will receive an Inspire Programme bursary, supporting ambitious candidates from rural and agri-food sectors.
In addition to a fully funded ticket to the event in January, themed "Farming a New Future", the group will participate in a two-day networking and skills development workshop, supported by programme sponsor TIAH.  
Now in its fifth year, Inspire has supported nearly 100 individuals to develop their own leadership journey, with many of them taking on key roles within their own business and the wider industry including with OFC, NFU, NFU Scotland, AHDB, QMS, The Allerton Project, and LEAF, to name but a few.  
Selected following an open application process, the 2023 cohort comes from across the UK, with careers in arable, beef, sheep, goats, poultry, forestry, tourism, agri-tech, finance, education, water and the environment. They include a farm manager supporting disadvantaged young people through residential stays on-farm, a marketing professional working with agri-technologies, a training and development officer for an agricultural well-being charity, a water catchment advisor, and a rural business consultant supporting future farming.
Commenting on the appointments, OFC Director and Inspire Programme Lead, Will Evans said,
"The OFC Inspire Programme offers the space and time for individuals to reflect, connect and build plans for their future. As a previous participant in 2018, it helped inspire me to make positive changes to my own business, whilst making lifelong friends and giving me the confidence to apply for a Directorship with OFC.
"It has been designed to provide an inclusive and welcoming forum for anyone actively involved in the rural, food and farming sector, who might be looking for their next career step, make changes to their own enterprise, or gain confidence and skills so they can play a more active role within the industry."
Charles Goadby, who participated in the 2022 programme found this particularly beneficial,
"There are very few opportunities you get where you can be with such a diverse spectrum of the agricultural industry, all so passionate about what they do, but also so open, and listening, to each other's thoughts and perspectives.  I've constantly felt encouraged and supported to be open with my thoughts and views and know that, as with everyone else's, a good honest and transparent discussion is there to be had and explore those ideas more."
The group will meet in December, and then attend the OFC from 4 to 6 January 2023, in Oxford.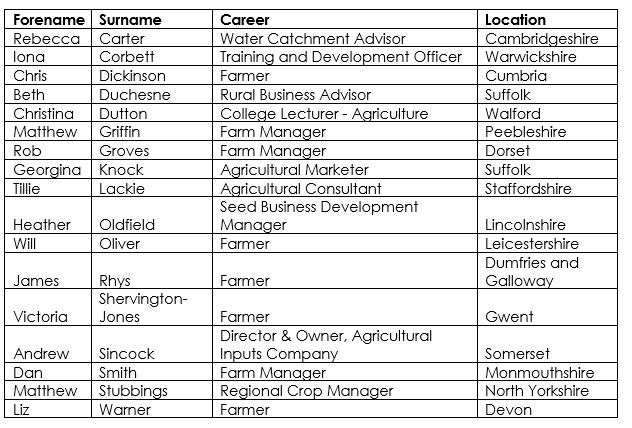 To find out more about OFC 2023, taking place from 4 to 6 January, visit www.ofc.org.uk.